Highlighted Research
Catherine Sharp
Catherine's research includes the development and evaluation of a combined healthy eating and physical activity behaviour change intervention targeting 3-4 year old children.
Recently, the World Health Organisation estimated that more than 42 million pre-school children globally were overweight or obese. The purpose of this research is to establish lifestyles where children will enjoy eating fruit and vegetables and being active, as behaviours established early track on into adolescence and adulthood. Since 2011, Catherine has been developing and trialling different components of the intervention at Tir na nÓg Child Research Centre. The children in the 'Playroom' have made a great contribution to Catherine's research, including being filmed for a news bulletin regarding childhood obesity, and being interviewed on Radio Cymru.
More recently, Catherine and the children were filmed at Tir na nÓg participating in the exciting interventions which will be aired on S4Cs Corff Cymru on June 8th. Please tune in to see how much fun the children have.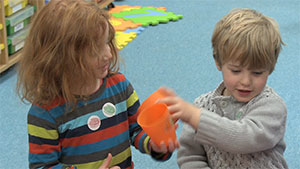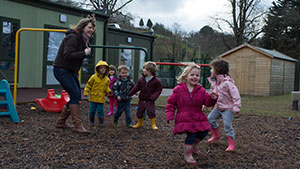 About Catherine
Catherine graduated from Bangor University after obtaining a first-class degree in Psychology. She was awarded a Masters by Research funded by KESS, and now undertakes a PhD in the School of Psychology funded by the department. Catherine is supervised by Prof. Pauline Horne, one of the founders of Tir na nÓg. She has a passion for providing children with the best start in life. If you would like any further information, please email her on c.sharp@bangor.ac.uk
Elena Neophytou

Elena's research examines how bilinguals categorise the world differently from monolinguals. Starting in the summer 2016, Elena will be conducting research at Tir na nÓg to see how bilingual children learn new visual categories and to see how learning one or more languages affects working memory.
One of her studies was recently featured on S4C's Corff Cymru: Bwyd Baban.

To understand speech, babies need to figure out how to pick words out of continuous speech. You know this isn't easy if you've tried learning a new language as an adult. Unlike written words, spoken words don't have spaces between them as cues. Babies need to learn how the sounds of their language go together to form meaningful words. This is even harder for bilingual children learning the sounds of two very different sounding languages such as English and Welsh.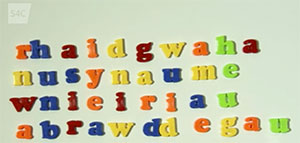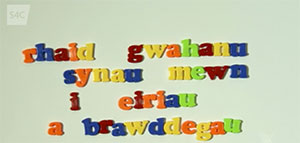 To figure out how bilingual babies do this, Elena measures how babies' brains react when they hear a new word repeatedly. She found that even 7 ‐ and 10 ‐month old babies who hear mainly Welsh, are able to become familiar with new English words after hearing them only a few times. This tells us that even though they are learning two different sounding languages, bilingual babies still learn to pick out words from continuous speech at the same time as monolingual babies.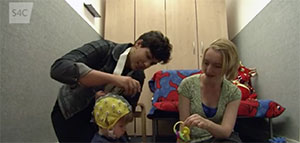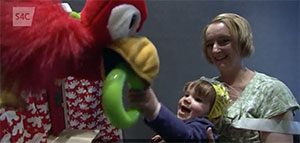 About Elena Neophytou
Elena completed her undergraduate first degree in Psychology at Bangor University and stayed on for her post-­‐graduate work. She is currently a PhD student in Psychology working with Professor Debbie Mills. She is a bilingual herself and grew up speaking both Greek and English. She is also about to take her GCSE-­‐level Welsh exam and hopes to become a fluent Welsh speaker. If you are interested in having your baby participate in one of Elena's studies please email her at: psp0a8@bangor.ac.uk